Philip Glass' "Glassworks"
March 14, 2021
One Friday, in the early summer of 2018, I donned my prettiest dress, threw on a cream plum lipstick, and walked to the subway to grab the uptown train. After years away from the cultural nexus of the city, I was headed to Lincoln Center to attend New York City Ballet's centennial celebration of the late choreographer Jerome Robbins.
Although NYCB is most wildly associated with George Balanchine, who co-founded the company and whose work it most regularly performs, Robbins holds a special place in the repertoire. He choreographed a significant number of ballets for the company, bringing his distinctly Broadway aesthetic to the art form and expanding what it meant to dance modern ballet.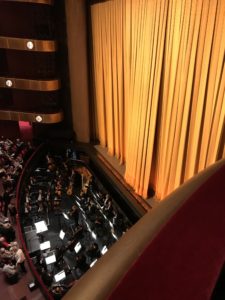 That warm, overcast May evening, I had a ticket to a performance that would begin with Robbins' beloved Dances at a Gathering and end with his metropolitan Glass Pieces, which is set to the music of Philip Glass—specifically pieces from his 1981 album Glassworks. Sitting in the cheap seats (discounted because you can see most of the stage), I was charmed by the former and wowed by the latter. I knew of Glass, but seeing the dancers embody his music transformed it in a material way. I remember being entranced.
Glassworks is a six-movement chamber work that integrates heavy pop influences—think synths meets classical. It marked Glass' first album for CBS, which he hoped, he later explained, would reach new audiences. Where some listeners had found his previous music difficult, Glassworks was meant to shed all such barriers.
Robbins selected "Rubric" and "Facades" for the first two movements of Glass Pieces, and they each paint a spirited portrait of city life. On "Rubric," a central saxophone syncs up with fluttering synths, creating a propulsive energy that mimics a busy sidewalk. On "Facades," the pace grows more subdued but no less insistent; strings enter the frame and against that backdrop, two soprano saxophones spin a captivating duet.
"Rubric" and "Facades" still wield the power to transport me back to that evening—really to the city itself—and the bright spot of that evening. Less than a year later, in what seemed like kismet, I'd find myself working at New York City Ballet, having taken a managerial role on the company's editorial team. It seemed—from the outside and even the outset—like a dream job. I thought I'd finally made it.
Part of "making it" in New York means not just what you do, but where you do it. Work and identity are fundamentally intertwined in that city in a way I've yet to experience elsewhere. People ask about your job by way of getting to know you, and that becomes your defining trait. Hobbies and interests and other things play a part, of course, but not nearly as much as your title and company, which makes sense: Those who move to New York don't arrive looking for the status quo—a bland job they could do anywhere with much less overhead. They come to do something big. Your job is your identity in that city, so you better find an interesting one.
By day four at NYCB, I felt the thunder of my mistake—in part because several of my coworkers began regaling me with their horror stories. That fourth day also happened to be NYCB's annual spring gala, an illustrious and exclusive affair. As I sat eating the most expensive meal of my life (comped because of my employee status) and watching celebrities rub elbows with dancers I'd long admired, the vision tarnished. What should have been the night to top them all—certainly that early Robbins performance—felt gnarled.
(Side note: once I wrapped up my gala duties at 2 a.m., I took a Lyft home, crying on the phone to my then-boyfriend about the alarming mess I seemed to be in. The driver overheard my side of the conversation, despite my attempts to be quiet, and offered a pep talk when he pulled up to my apartment. That exchange remains an equally meaningful and mortifying moment from my time in the city.)
I wouldn't last long at NYCB; I'd be gone by summer's end. What should have been a significant step forward for me, after years of struggle, was a significant misstep. But Glass Pieces somehow escaped that particular coloring. While I haven't seen it performed since 2018, I hear in it not just the thrilling movement I saw explode on stage, but feel for a spell the transcendent energy of the city. It was dazzling, until it wasn't.