Maps & Atlases' 'Beware and Be Grateful'
February 15, 2021
Winter inevitably calls up a craving for the Chicago-based indie/math rock band Maps & Atlases and their 2015 album Beware and Be Grateful, despite the fact that I first heard them play in the fall.
I'd just moved to Champaign, where I was slowly acclimating to the midwestern sounds that came out of the steely cities surrounding it. That tour circuit sounded completely different from what I'd heard over the past five years in Louisiana—the warm fais do-dos or spirited brass bands in New Orleans and the folk-leaning singer-songwriter scene in Baton Rouge. It was the sound of cold—not just cool—crisp falls, and the burrowing instinct of winter.
Speaking of temperatures, the night Maps & Atlases came to town was frigid and found me questioning whether I wanted to venture over to their show. I tended to walk the 20 minutes it took to get downtown to the Highdive, avoiding a faster (and warmer) drive so I didn't have to deal with Champaign's expensive and convoluted public parking system. But some instinct forced me out into the biting October night, and I credit it with helping me find a band I've cherished ever since.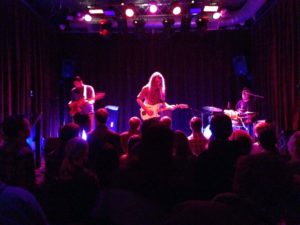 Maps & Atlases' math rock label comes, in part, from lead singer Dave Davison's blistering fingering. He skips nimbly over the strings as though he were playing a piano or a MIDI pad controller. (Watch what I mean.) Backed by Shiraz Dada's warm, husky bass, the combination creates a heady sound that's always somehow spritely. Layering those juxtaposing textures, Davison's distinctive, almost-metallic timbre matches his instrument and regularly augments the melody line. It was unlike anything I'd heard up until that night, and the discovery felt like synchronicity.
After I left the venue, I returned to Maps & Atlases time and again that winter, as the months grew colder, darker, and the snow made mobility more difficult. Beware and Be Grateful came to embody the season, even though it's not a quiet, cozy album. It's bright and quick tempo'd and signals far more motion than winter typically invites. It felt like an escape from my own weathered insularity, even while, oddly enough, embodying it.
The music you find in—and for—certain moments doesn't always last. You can outgrow a band or an album for any number of reasons, so what is it that makes something stick? I don't have a satisfying answer to that question. For some singular reason I've never been able to articulate, Maps & Atlases has remained a constant every winter. Beware and Be Grateful takes me back to that solitary winter in Champaign when life was frozen and I was waiting for the thaw.