The Summery Sweetness of Eaux Claires
September 6, 2021
Rare are the times when a moment is so perfect you recognize it while it's happening. Usually that kind of appreciation happens after the fact, when reflection takes over and lends the past a rosy hue.
Let me take you back to one such night in the summer of 2015.
Bon Iver had been silent—in the sense of playing live music—for some time. After releasing his second, self-titled album in 2011, and touring extensively behind its more expansive sound, Justin Vernon had retreated. By 2015, it had been three years since he'd performed.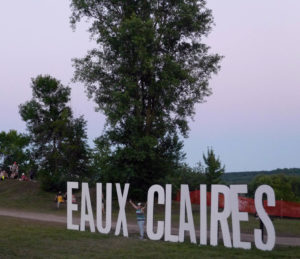 It took a music festival, and the creative control that kind of event offered, to entice Vernon back onstage. Beginning in early 2015, he teamed with The National's Aaron Dessner to begin launching Eaux Claires—a two-day collaborative extravaganza set along the Chippewa River, in Vernon's hometown of Eau Claire, Wisconsin. Among a smorgasbord of music from every genre imaginable, the inaugural July weekend would also feature a Bon Iver headlining set.
My ears pricked up.
Back then, I lived in Champaign, Illinois, a six-hour drive from Eau Claire. After years in Louisiana, I'd been learning the language of midwestern music, and Eaux Claires offered a chance to deepen that knowledge, to see some of the midwestern bands I'd recently heard live while enjoying some of my favorites, like Charles Bradley, Hiss Golden Messenger, Sturgill Simpson, and The Lone Bellow.
All of that PLUS a Bon Iver headlining set? Twist my arm.
I texted my friend Melissa, who adored The Lone Bellow, and suddenly our "Wouldn't it be fun if…?" morphed into actual plans. Mel purchased a festival ticket, while I began pitching outlets. At the time, I'd been freelancing more and more in the hopes of transitioning my local-heavy writing into national bylines. When I pitched Consequence of Sound about reviewing the weekend, I was thrilled they said "yes."
It marked my first major event coverage. But not just words—I'd be taking photos, too. I spent the entirety of the festival scrambling from stage-to-stage, capturing images from each set's first three songs, before checking in with Melissa, who regularly inserted herself into the audience, and then dashing off to the next show. After nearly a year spent pushing paper in an office that took "soul crushing" to a new extreme, I thrilled at what music journalism—actual on-the-ground musical journalism—felt like. Part of me knew I'd never go back to a world where I couldn't participate in it to some degree.
But enough wind-up to this pitch. I can't remember exactly when Bon Iver became one of my favorite bands, though my listening had skewed heavily in their favor for a few years by then, but it all solidified that Saturday evening in Eau Claire.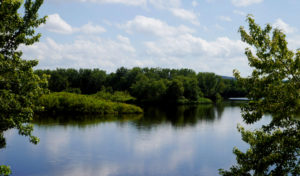 By the time their set rolled around, I was exhausted. There's a different kind of physicality required to covering a festival rather than simply attending, and I wasn't prepared for that amount of go-go-go. Plus, it had been hot with a capital H. But my onsite work was done. My co-writer would be taking photographs and handling the Bon Iver blurb, so I could take it all in and simply listen.
Melissa and I grabbed beers and found spots about midway back from the stage—room enough to enjoy Bon Iver without the dense press of a crowd. The sun dipped behind the trees lining the festival field; the stars slowly sparkled to life. I remember tilting my head back and drinking in the dusky beauty of the moment.
Fans, including those that had parked themselves in front of the stage barrier since the gates opened that day, began chanting and tossing beach balls around. Anticipation ran high. We'd finally, collectively, reached the reason so many of us had traveled far and wide, had taken a chance on a brand new festival.
The lights dimmed as Bon Iver took the stage, breaking into "Heavenly Father," the song Vernon contributed to Zach Braff's 2014 film Wish I Was Here. The opening monk-like chants, done with a kind of android-esque effect on loop, suddenly felt as spacious as the Wisconsin night sky. The stage stayed mostly dark for the remainder of that opening incantation, before Vernon began singing in his chest voice, which, as a side note, might be one of my favorite sounds on this planet. It's a resonant baritone that nestles in my solar plexus every time I hear it.  
In the midst of the song, I again gazed up at the sky, tracking the growing number of stars that were visible now that the last light of day had faded. Something about taking in that bejeweled sky, feeling affixed to the earth and partner to a small piece of magic, left me awed. I felt the perfection of the moment acutely.
I ended up returning for the next three versions of Eaux Claires—in 2016, 2017, and 2018—until the festival went on hiatus, giving organizers time to rethink its form and function. Rumor had it they would be moving the festival from one onsite location, by the river, and scattering shows throughout downtown Eau Claire. But that never came to fruition because the year it should've returned, 2020, was well…you know.
I'm not exactly an avid festival goer, but that inaugural weekend fostered some deep and abiding love for Eaux Claires that remains to this day. As soon as they announce Eaux Claires V, I'll be back. But I'll never forget that Saturday night in July, when I felt some connection with the great wide open of this strange and lovely existence, soundtracked by Bon Iver's return. It was magic and all the more special because I recognized it then and there. No need to wait until memory casts its emotional glow. I felt the power of meaning in the moment.