All Hail King Stitt
February 28, 2021
When I first started collecting vinyl, I was exceptionally—almost stupidly—lucky. I dug up randos, took a chance, and ended up procuring LPs that would go on to become some of my favorites: Ride Me Donkey, Ted Hawkins' Watch Your Step, and Brazil Forro: Music for Maids and Taxi Drivers (how can you pass on that title?).
Among that collection was Dance Hall '63, featuring King Stitt. After I put the album on the record store's test turntable and heard how the woozy sax trigged a warm beat, I was sold. But I had no idea what joy Stitt would bring to my life.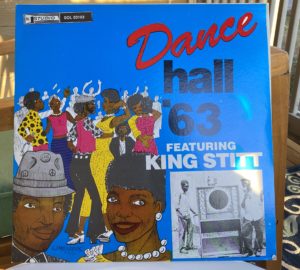 Stitt overtakes the album with his "toasting," or hype and chatter which would go on to inform early hip-hop. You can still dance and enjoy the music, but Stitt has shit to say and you will listen.
Some gems: "It's not magic, it's miraculous!" and "This sound is on top! On top of the world!"
He also clearly revels in telling the audience who's playing and what they're doing. "[Name inaudible] on the saxophone and King Stitt on the microphone," he reminds dancers. He is as much a star as the music he's spinning. He's the MC, hype man, and liner notes, all rolled into one.
A dancehall DJ working in and around Kingston, Jamaica, Stitt (born Winston Spark) was actually a pioneer in the field, though somehow he thought his given name wasn't suitable for the profession when really DJ Spark could've had an equally luminous career. Instead, he chose "Stitt" because of the stutter he'd had since childhood.
According to Stitt himself, he met Clement Dodd (known as Sir Coxsone), the famed Jamaican DJ, in 1955. Dodd was apparently fond of Stitt's dancing and thought he could be fun on the mic. He had no idea. Stitt began DJing in 1956, and eventually became so popular, he added the "King" that gave him his full name.
I started this post by calling those early finds "lucky," but really they far exceed that adjective, especially Dance Hall '63. From my very first time hearing it all the way through, to subsequent listens—usually in mid-summer, after a beach day that soaks past your skin and down to your very core, offering some hint at what perfectly happy feels like—I think of King Stitt: "It's not magic, it's miraculous."