Weyes Blood's "Andromeda"
February 1, 2021
I've hinted at, but haven't talked enough about, timing in music. No, not rhythm. I mean the providence of finding a song (or a song finding you) at the exact right moment. I've long thought that, like any worthwhile art form, some songs are windows while others are mirrors. Whether gazing out or in, you'll only be ready for a song's perspective if the timing is right.
I mention all of this because it's timing that reconnected me with Weyes Blood's song "Andromeda." The track appears on the California singer-songwriter's 2019 album Titanic Rising, but its message didn't reverberate until I heard it in the opening sequence of the 2020 apocalyptic comedy Save Yourselves! The film's slo-mo dance sequence uses the entire song—a luxurious five minutes—rather than slicing it up to underscore a brief scene. Hearing it in that moment, the lyrics felt crisp and consequential.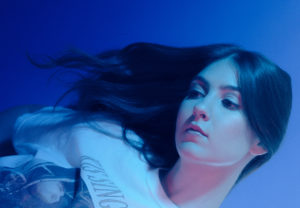 On "Andromeda," Weyes Blood (Natalie Mering) depicts the emotional hesitancy that sometimes occurs before the start of a new relationship. Instead of making grand proclamations about starting over, it wavers. It's an unsteady song, and all the more significant for that vacillation. After all, past a certain age and a certain number of exes, can you really trust that your next relationship won't follow the same course?
Mering doesn't reach a definitive answer. "Andromeda" is less about a conclusive "happily ever after" than it is the beauty of willingness—and the resiliency it takes to get there.
The song begins with hazy synths, as though it were a message recorded long ago and only now reaching earth. "Running from my own life now/ I'm really turning some time/ Looking up to the sky for something I may never find," Mering sings about trying to understand the choices she's made and where they've left her. Having tried things her way, she relinquishes her life to the fates, challenging them, "If you think you can save me/ I dare you to try." In other words, if the stars have something in mind, she's listening.
The timing I experienced connecting with the song over a year after its release reminded me of another kind of timing. I never used to pay much attention to whether or not I was ready for certain things. I tended to dive in and figure it out along the way. But being ready is critical. Without that positioning, it doesn't matter how amazing a connection—or opportunity—you might find.
"Ready" felt like a vague concept for me last year. After ending things with my long-term boyfriend, I certainly didn't feel ready to date again, especially in the middle of a pandemic. After I moved to Durham last summer, I downloaded Bumble against my better judgment, thinking I'd see what the dating scene was like. But I lasted all of three days before I deleted my account. I tried again in November, striking up a handful of conversations but none that held my interest. That time, I made it a week before I again deleted the app. I wasn't there yet. Some people can jump into new relationships quickly, but I tend to move slow, as I've detailed previously, and have sometimes felt all the more awkward for that pace.
Yet, hearing "Andromeda" that December night I watched Save Yourselves!, I recognized a difference. "Ready" no longer felt nebulous, cast far into the future. Rather, the weight of the past felt less heavy. The thought of a connection with someone new felt more exciting. A certain degree of hope started bubbling beneath the surface.
It was a small comfort to know I'd gotten there on my own, without burrowing down into the distraction of something unhealthy, without moving on too quickly and contorting myself in ways that would only come back to haunt me. On some level, I had trusted that I would get there. And I had. Now, as Mering sings, "More than anything I can think of/ I'm ready to try." What a beautiful phrase.